Lyndon Baines Johnson: His Life and Legacy
"Let a troubled world take note that here on the border two free nations have resolved their differences with dignity and with justice." – Lyndon B. Johnson addressing the nation from El Paso, Texas on September 25, 1964
Lyndon Baines Johnson (LBJ), the 36th president of the United States, has been described by historians in many ways: an environmentalist, a brilliant politician, a social reformist, and a hero of civil rights. On the other hand, LBJ has been described as an arm twister, a man obsessed with his place in history, and the man most responsible for U.S. involvement in the Vietnam War. Indeed, many writers and historians seem to either praise LBJ or despise him altogether. The goal of this essay, however, is not to prove that he was a "good" man or a "bad" man. Instead, this essay will lay out the facts revolving around the life of LBJ and let you develop your own opinion about him.
In the rural town of Stonewall, Texas, Lyndon Baines Johnson was born on August 27, 1908. LBJ graduated from Southwest Texas State Teachers College (present day Texas State University-San Marcos) in 1930. Shortly thereafter, he went to work as a personal secretary to then U.S. Representative Richard Kleberg. In 1934, he met and married Claudia Alta Taylor, known thereafter as Lady Bird Johnson. (Lady Bird was a childhood nickname).
After a brief stint in teaching, LBJ was appointed by President Roosevelt as the head of the Texas National Youth Administration. A couple of years later, LBJ found himself living in the right congressional district at the right time. U.S. Representative James Buchanan's untimely death in 1937 left an opening in Texas' District 10. A special election was held in which LBJ entered and won, thus becoming a U.S. Representative at age 28.
In 1941, after losing an election to get into the U.S. Senate, and after Japan bombed Pearl Harbor, Hawaii, President Franklin D. Roosevelt appointed LBJ as a congressional inspector of the war on the Pacific Front. A matter of extreme controversy occurred when LBJ came back from his inspections—he was awarded the Silver Star. What did LBJ do to earn a Silver Star? As it turns out, LBJ didn't really do much of anything. He was involved in a single bombing raid in which he was an observer in an aircraft. He did none of the piloting or bombing. In fact, some sources speculate that LBJ's jet turned around due to an engine malfunction before the bombing even took place. It should be noted that not one pilot or bomber on this mission received an award for their service, yet LBJ did as an inspector.
After the war and back in politics, LBJ won a seat in the U.S. Senate in 1948. He became very powerful during his twelve years in the U.S. Senate by surrounding himself with senior senators, working extremely hard, and using his infamous treatment to get what he wanted.
Wikipedia Photo
In 1960, LBJ campaigned to be the democratic presidential candidate but lost in the primaries to Massachusetts Senator John Fitzgerald Kennedy (JFK). Later that year, JFK asked LBJ to be his vice presidential running mate, and LBJ accepted. And so when JFK beat Richard Nixon and won the presidential election, LBJ became vice president.
JFK became a very popular president for many reasons, but his time in the oval office was short-lived. On November 22,1963 Kennedy was assassinated while waving and smiling to fans in his presidential motorcade in Dallas, Texas. LBJ was two cars behind Kennedy and witnessed the tragedy first hand. LBJ was swiftly secured aboard Air Force One. In flight, LBJ was sworn in as our 36th president. When the presidential aircraft touched back down on U.S. soil, LBJ spoke to the world for the first time as president: "This is a sad time for all people. We have suffered a great loss that cannot be weighed… I will do my best. That is all I can do. I ask for your help—and God's" (Lyndon B. Johnson: Public Papers of the Presidents, U.S. Government Printing Office, Washington D.C., 1965).
After the nation and new president finished grieving, LBJ settled into a presidency that was powerful and successful in many regards. LBJ's successes rested primarily in civil rights and social reform. The negative side to LBJ's reign and also his fall from grace was the Vietnam War.
In regards to civil rights, as a senator in the 1950s, LBJ had fought to get civil rights legislation passed with no avail. As president, LBJ had more success. He signed into effect the Civil Rights Act of 1964 which outlawed racial segregation. In 1965 LBJ signed into effect the Voting Rights Act which outlawed discrimination in voting. LBJ also elected the first African American to the Supreme Court, Thurgood Marshall.
Outside of Civil Rights, LBJ made great headway in social reform through a program known as the Great Society. Through the Great Society, the federal government increased spending vastly in education, anti-poverty campaigns, crime prevention, city and highway beautification, conservation, and health care.
Regarding preservation, some key laws were passed during LBJ's tenure; his presidency coincided with the 1960s environmental movement. LBJ signed into effect the Wilderness Act of 1964, the Land and Water Conservation Fund in 1965, and the Wild and Scenic Rivers Act in 1968. Furthermore, the National Park System added 3.6 million acres during LBJ's administration. One park in particular that entered the National Park System during this time was yours truly, Chamizal National Memorial.
Indeed, LBJ was a key player in peacefully solving the Chamizal dispute between Mexico and the U.S. The Chamizal dispute revolved around a controversial tract of land in the middle of El Paso-Ciudad Juarez that originally belonged to a Mexican farmer. However, during the flood of 1864, the Rio Grande changed courses and thus put the Chamizal tract on the U.S. side of the river. The Chamizal tract became disputed territory between the U.S. and Mexico because both countries claimed it as their own.
As a senator in the 1950s, LBJ had sent a personal note to President Eisenhower requesting that the time was ripe for peacefully ending the Chamizal dispute; Eisenhower did not act on the matter. However, under Kennedy, the peaceful ending of the dispute had been initiated. In fact, at the time of Kennedy's assassination, the Chamizal Convention (treaty) of 1963 was being written. Due to Kennedy's tragic death, it was LBJ who signed the Convention in Washington D.C., and it was LBJ that met with President Adolfo López Mateos of Mexico in El Paso to officially ratify the Convention in September of 1964. The Chamizal Convention of 1963 gave the Chamizal tract back to Mexico and also did many other things that ultimately established a relationship of friendship, diplomacy, peace, and goodwill between the two countries.
To learn more about LBJ, visit Lyndon B. Johnson National Historical Park.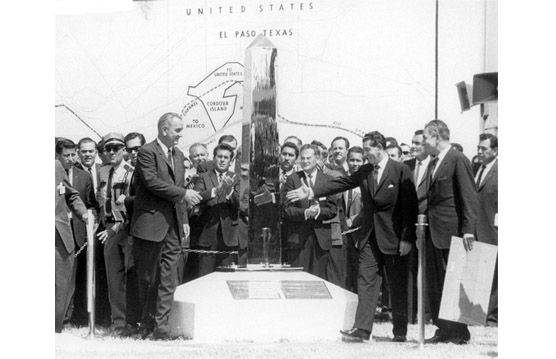 NPS Photo