Siglo de Oro Drama Festival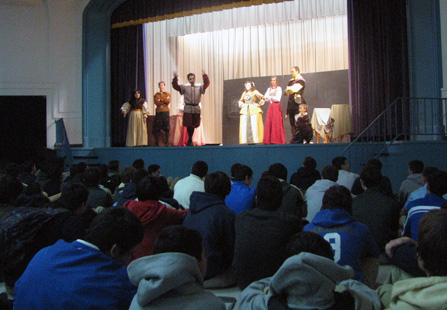 NPS
An important facet of the Siglo de Oro Drama Festival is the Memorial's outreach program. This program gives hundreds of students every year the opportunity to examine the contemporary world through the relevant eyes of the past and to understand that although material culture may change, people and emotions have remained the same through the centuries. There are two main aspects to the program: the teacher workshop and the campus-based outreach sessions.
The workshop is primarily geared to Theater and Spanish teachers at the middle and high school levels.
The second aspect of the education program is the outreach sessions on school campuses. Generally, an acting troupe visits school campuses to give students an introduction to Siglo de Oro and as well as some contextual information about a scene the performers present to the students. Schools selected to host outreach sessions are chosen from the list of educators who participate in the teacher workshop. This helps ensure that students do have some background information prior to the school visit.
Learn more about the Siglo de Oro.