Visiting Chamizal National Memorial is a valuable opportunity to connect students to principles of environmental and cultural stewardship promoted by the National Park Service.
It's also a great way to learn about a key moment in local history that had international ramifications. But most importantly, a visit to Chamizal provides a unique, fun, memorable field trip! Plus, all our education programs are aligned to Texas state-education standards.
Another type of field trip opportunity are our scheduled theater outreach events. There are several performances scheduled for spring of 2015, but schools need to sign up soon. The deadline is December 19, 2014.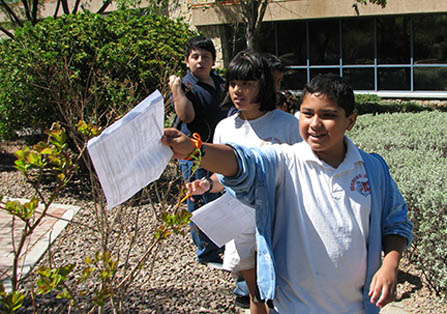 NPS


Explore the park's three gallery spaces and delve into the art of regional artists. Read More

Chamizal Oral History Project

Gathering stories and learning about our history... Chamizal is working on interviewing Chamizal residents, relocated residents and others who have compelling stories to tell. To learn more, visit the Chamizal Oral History Project page. Read More

For Kids

Find out what kid-geared fun is planned at the park! Read More

Kids' Gallery

Chamizal and our story are the focus of these kid-created works. Read More