Distance Learning Opportunities
Web Conferencing at the Memorial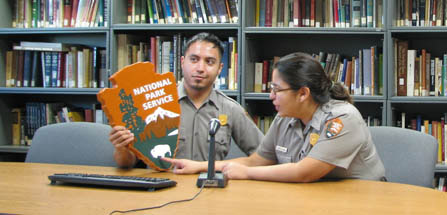 NPS
Chamizal National Memorial invites you and your students to explore the memorial and the National Park Service without any parent permission slips!
Using web conferencing technology, your students can participate in a real-time learning experience with park rangers on various subjects that meet Texas Essential Knowledge and Skills (TEKS) standards. All you need is access to a computer, internet, web cam, and a microphone - stuff that's probably already in your classroom!
Signing up for this program is fast, easy and free. Call or e-mail the park's education staff at (915) 532-7273 x130 or e-mail us.
Current Program:
NPS in Federal Government 94 KB
9-12th Grade, Government Classes

Upcoming Programs:
Understanding River Movements
4-5th Grade, Science Classes

Political Characters in the Chamizal Story
6-8th Grade, Theater & Social Studies Classes

Distance Learning Opportunities throughout NPS

Find distance learning opportunities for many of the 391 NPS sites throughout the country.

Web Rangers Program

Hey kids, check out our web ranger program to learn about the Chamizal story. Read More