Alcohol Ban for Visitor Safety

From June 1 through August 31, the consumption or possession of alcoholic beverages without a permit is prohibited. During Music Under the Stars concerts, alcohol may be purchased within the memorial boundary. More »
Construction Activity Near E Paisano Drive and S San Marcial Street

If entering the park from E Paisano Drive and S Marcial Street please be extra cautious. Pay close attention to the temporary road signs during the ongoing construction activity there.
Web Rangers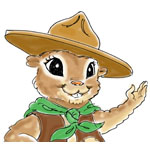 Join Chami and his friends on three adventures as you learn more about Chamizal National Memorial and the National Park Service.
Click on the "Let's Begin" button to start the adventures!
Si desea ver este sitio en español, haga Clic aquí.
Receive a password at the end of each chapter to go on to the next!
---
Web Ranger Certificate

Print your Web Ranger Certificate!
Be sure to have your password with you.
---
NPS Web Rangers
The National Park Service has created a site where all our visitors can become Junior Web Rangers! Click
here
to go to a new page.
---
Did You Know?

The only natural boundary between the United States and Mexico is the Rio Grande River, which was established in 1848 by the Treaty of Guadalupe Hidalgo. The Rio Bravo, as the river is known in Mexico, makes up about 1000 miles of the 2000-mile border between the two countries.