Web Rangers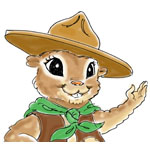 Join Chami and his friends on three adventures as you learn more about Chamizal National Memorial and the National Park Service.
Click on the "Let's Begin" button to start the adventures!
Si desea ver este sitio en español, haga Clic aquí.
Receive a password at the end of each chapter to go on to the next!
---
Web Ranger Certificate

Print your Web Ranger Certificate!
Be sure to have your password with you.
---
NPS Web Rangers
The National Park Service has created a site where all our visitors can become Junior Web Rangers! Click
here
to go to a new page.
---
Did You Know?

The Mexican flag is flown at Chamizal National Memorial out of respect for the sentiments that made the Chamizal Convention of 1963 a reality. The United States flag will always be on the left as you face the Memorial. More...