Plan Your Visit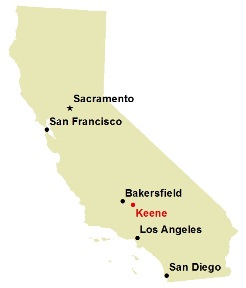 César E. Chávez National Monument is located at the site known as Nuestra Señora Reina de la Paz in Keene, California, approximately 30 miles southeast of Bakersfield.
This is a new national park area "in progress" with services and programs that are still under development. In the coming years, you will see more visitor opportunities, interpretive, and educational programs added to the park.
The areas that are currently open to visitors include a visitor center that features multimedia presentations and exhibits, and a memorial garden in which César Chávez is buried. Today, La Paz continues to be a home and workplace just as it was during César Chávez's life. Please respect the privacy of the farmworker movement organizations that still operate from this site, and the residents who live here.