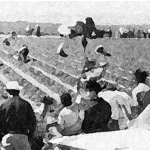 Original photo courtesy of Walter P. Reuther Library.
The National Park Service has conducted a study of other significant historic sites related to César Chávez and the farm worker movement. To learn more about this entire process: Read more...
To download the César Chávez Special Resource Study and Environmental Assessment directly: Read more...
Read the park's first newsletter (Dec. 2013) Read more...