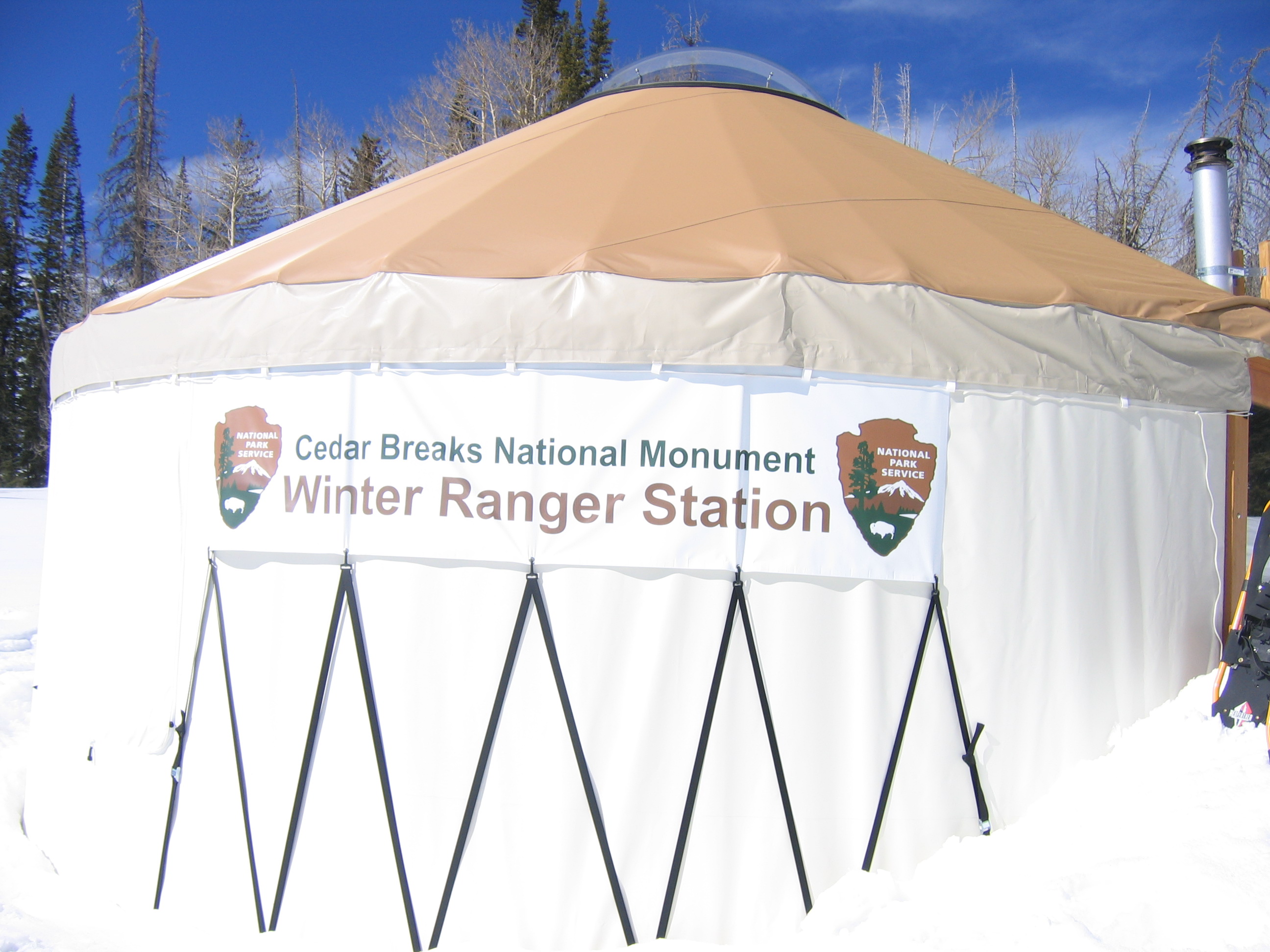 Cedar Breaks invites you to visit the Winter Ranger Station!
On winter weekends, this traditional snow shelter is staffed by volunteers and park rangers. Located 1 mile south of the junction of UT-143 and UT-148, the shelter provides a warm welcome to Cedar Breaks for snowmobilers, snowshoers, and cross-country skiers.
Guided Snowshoe Walks
Cedar Breaks Rangers conduct free snowhoe walks for the public on Saturdays in January and February. Join them for a 2-mile trek in this winter wonderland! Snowshoes are provided. For information on this year's hikes, click here to view our upcoming events page.
What is a Yurt?

A yurt is a portable structure that provides good insulation from summer heat, but keeps the heat in during the winter. The yurt was invented to be a portable dwelling for nomads. Originally, yurts were constructed with a wooden frame that was tied with rope to help keep it round. The cover was made from wool. Sometimes it took six layers to keep the yurt well-insulated! A yurt can be warm in temperatures as low as -40 degrees!
Click here to learn how the Winter Ranger Station was constructed and view step-by-step pictures of the construction process!

Directions
To get to the Winter Ranger Station in the winter: Drive on Highway 143 until approximately three miles south of Brian Head, at the junction with Utah Highway 148 (Cedar Breaks Scenic Drive). A plowed parking lot is maintained at this junction, except during and immediately after snowstorms. The Winter Ranger Station is located about one mile south of the junction. A snowmobile track follows Highway 148 and is regularly groomed, providing the most direct path to the Winter Ranger Station.
Parking at the Winter Ranger Station is only available in the summer and fall due to the high snow levels.
GPS Coordinates

N37 38'31.00 by W112 49'20.07
37.641944 -112.822242
View the Winter Ranger Station in Google Maps
Volunteer Opportunities at the Winter Ranger Station
Cedar Breaks relies on the services of dedicated, generous volunteers to staff the Winter Ranger Station on winter weekends.
We are always appreciative of new individuals seeking to volunteer at the Winter Ranger Station. When considering this opportunity, please keep in mind the following:
You must be physically able to ski, snowshoe or snowmobile at least two miles. This equipment is not provided, but rental options are available in Brian head.
You must participate in training prior to any service. This training is provided at the beginning of the winter season. Special accommodations can be made at mid-season. You will also be paired with an experienced volunteer before being allowed to work independently.
Communication is required with Zion National Park Dispatch via cell phone or two-way radio (both are provided).
Potentially severe weather conditions can pose safety hazards.

Please contact Daphne Sewing, (
e-mail us
) for more information about volunteering at the Winter Ranger Station. For information on other volunteer opportunities at Cedar Breaks, click
here
.