UT 148 Closed

Utah Highway 148, the main road through Cedar Breaks National Monument, is closed for winter. Until it reopens next spring, we invite all to continue to enjoy the monument on snowshoes, x-country skis, and snowmobiles.
Website Maintenance and Updates

Over the next few weeks, Cedar Breaks' website will be updated. The site will be reorganized, resulting in a better, faster user experience. However, during the update, some pages and links may not be functional. We apologize for any inconvenience.
Visitor Centers
Visitor Center at Point Supreme
Open: Daily, early-June to mid-October, 9:00 a.m. to 6:00 p.m.
Phone: (435) 586-0787 ext. 4031
Special Programs: Daily Ranger talks
Exhibits: yes
Available Facilities: Restrooms are located at the parking lot near the fee station. Bookstore is located within the Visitor Center.
Additional Information:The Visitor Center at Point Supreme was built in 1937 by a crew from the Civilian Conservation Corps (CCC). Originally used as a museum and office, it became the visitor center after the Cedar Breaks Lodge was demolished in 1972.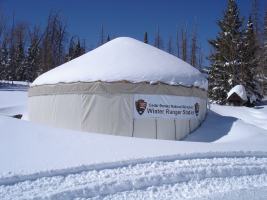 Winter Ranger Station
Open: Saturday and Sunday only, 10:00 AM to 2:00 PM. Usually mid-November to late March, but all operations are weather dependent.
Phone: none available on site, call Cedar Breaks' offices in Cedar City for more information or click here to learn more about the Winter Ranger Station.


ZNHA Bookstore

Learn more about the bookstore at Cedar Breaks. Read More

Information about Cedar Breaks

Download a brochure for additional information.
Did You Know?

Cedar Breaks National Monument was rated as one of the "Top 8 Unique Destinations to View Fall Colors," by the NBC Today Show. Stop by during September and October to see these colors for yourself!