Self Guided Battlefield Tours
Official Battle of Cedar Creek Self Guided Auto Tour
Follow the battle from where the Confederate soldiers surprised the sleeping Union camps in the foggy dawn of October 19, 1864 to the final counterattack late that afternoon.
Distance: 18 miles
Time: Allow 2 Hours
Start: Cedar Creek Battlefield Foundation
End: Lord Fairfax Community College
Road Conditions: Traffic on some roads can be fairly heavy (especially US 11). Be careful pulling into traffic or slowing for a stop. Long Meadow Road and Bowmans Mill Road are narrow and unpaved.
Caution: Buses and RVs should not attempt this tour. Some roads are very narrow and two sections include low clearances.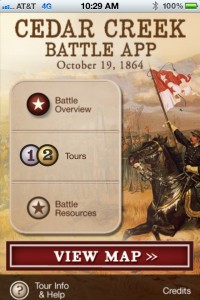 Battle App for Iphone and Android
The Civil War Trust, the nation's largest nonprofit battlefield preservation organization, today announced the newest entry in its popular Battle App series - a free, multimedia and GPS-enabled smartphone tour of the Cedar Creek Battlefield, available for both iPhone and Android phones. The project was underwritten with a grant from the Virginia Department of Transportation and created in partnership with NeoTreks, Inc., an industry leader in mobile GPS-based touring.
Featuring GPS navigation, primary source material and the commentary of respected historians, the Cedar Creek Battle App offers the convenience of a self-guided tour with the benefits of an expert-led presentation - and all at no cost. To date, more than 50,000 people have downloaded the Trust's Battle Apps, offerings which have, on average earned 4-star reviews from users.
Podcast Tour
Download a FREE podcast tour that covers the Battle of Cedar Creek (October 19, 1864). Podcasts are file systems that can be downloaded onto an iPod or mp3 player, then taken to the park for a tour of the battlefield. Produced in partnership with Civil War Traveler, this tour consists of a 18-mile long, 10-stop driving tour that covers the battle in chronological fashion.
The podcast is located on our partner's web site at Civil War Traveler.com. There you will find detailed instructions on how to download the tour as well as maps and driving directions that are essential for the listener to locate stops on the tour.
Remember that the tour offered here has not been scripted and you will be listening to real time interpretation of the battlefield.
For more detailed tours see:
*Joseph W. A. Whitehorne, Self-Guided Tour of The Battle of Cedar Creek (Center of Military History, U.S. Army, DC, 1992). For sale at Cedar Creek Battlefield Foundation Headquarters, Hupp's Hill Civil War Park and Belle Grove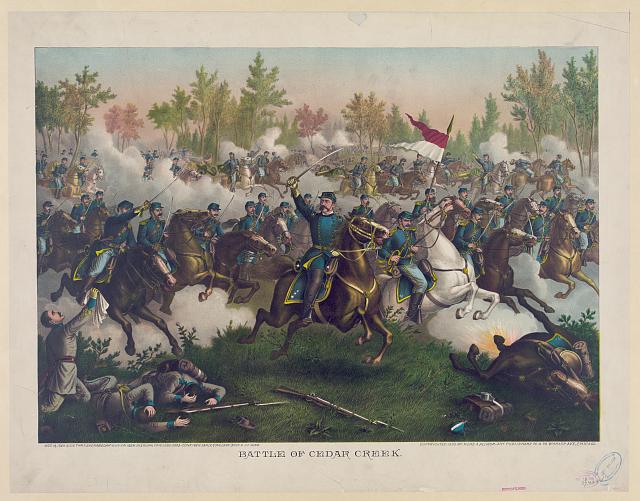 Kurz and Allison