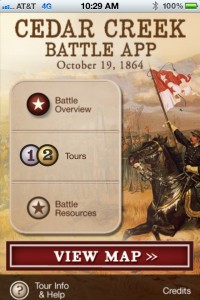 Battle App for Iphone and Android
The Civil War Trust, the nation's largest nonprofit battlefield preservation organization, today announced the newest entry in its popular Battle App series - a free, multimedia and GPS-enabled smartphone tour of the Cedar Creek Battlefield, available for both iPhone and Android phones. The project was underwritten with a grant from the Virginia Department of Transportation and created in partnership with NeoTreks, Inc., an industry leader in mobile GPS-based touring.
Featuring GPS navigation, primary source material and the commentary of respected historians, the Cedar Creek Battle App offers the convenience of a self-guided tour with the benefits of an expert-led presentation - and all at no cost. To date, more than 50,000 people have downloaded the Trust's Battle Apps, offerings which have, on average earned 4-star reviews from users.