Visitor Center Restroom Construction

Beginning Jan. 30, 2014, the visitor center restrooms will be under construction. Please check with a ranger for an available restroom if needed.
Where To Eat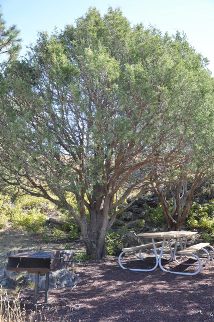 NPS A. BUCCANERO
Food service is not available within Capulin Volcano National Monument.

A picnic area in the monument is open year round. The picnic area has tables, grills, restrooms and trash containers; restrooms are closed from mid-October until May.
The closest restaurant is in Des Moines, NM. The Sierra Grande Restaurant, 12 miles east in Des Moines, is open year round for breakfast, lunch and dinner.
Other restaurants and fast food are available in Raton, NM, 30 miles west, and Clayton, NM, 58 miles east, of Capulin Volcano.


Did You Know?

In the summer of 2011, Capulin Volcano had two unexpected sightings of Bighorn Sheep at the base of the volcano. Pressure from severe drought conditions may have forced the sheep to seek new areas for food.