Road Work

When entering the park, watch out for road crew on April 16. Flaggers are on site to guide traffic to the visitor center. The vistor center and Volcano Road are open. Please call for more information.
Where To Eat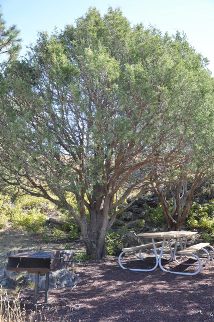 NPS A. BUCCANERO
Food service is not available within Capulin Volcano National Monument.

A picnic area in the monument is open year round. The picnic area has tables, grills, restrooms and trash containers; restrooms are closed from mid-October until May.
The closest restaurant is in Des Moines, NM. The Sierra Grande Restaurant, 12 miles east in Des Moines, is open year round for breakfast, lunch and dinner.
Other restaurants and fast food are available in Raton, NM, 30 miles west, and Clayton, NM, 58 miles east, of Capulin Volcano.


Did You Know?

Capulin Volcano is approximately 4 miles in circumference at the base with a crater diameter of 1450 feet and an elevation of 8182 feet at the highest point.