Things To Know Before You Come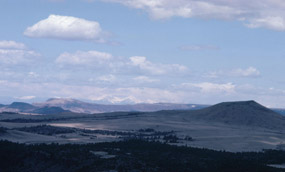 Come see the world, or at least about 8,000 square miles of volcanic field, from the top of Capulin Volcano.
Things to Know Before You Come
Capulin Volcano is easily accessed via a 2 mile road to the volcano rim. The road is 2 lanes and paved but follows the curve of the mountain which limits the size of vehicles able to pass each other comfortably.
Oversized Vehicle Accommodation
The Monument's compendium states the maximum size of a vehicle allowed on the Volcano Road is 26 feet in length and/or 8 feet in width. In order to accommodate large vehicles (motorhomes, buses, etc.), we must stop traffic. We will try our best to accommodate visitors who have larger vehicles, but accommodation will depend upon staffing and the number of vehicles at the top of the volcano.
Vehicle Limits
No trailers or towed vehicles are permitted on the volcano road. If you are towing a trailer, it will have to be unhitched and left at the visitor center. IF you are driving an RV towing a vehicle, you will have to unhitch and drive the smaller vehicle to the rim.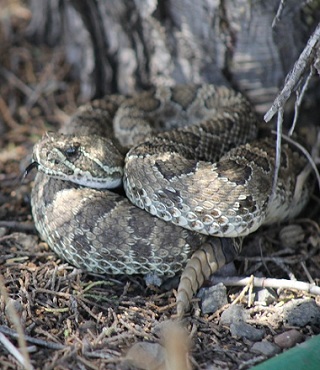 NPS M. Tillson
Your Safety
Thunderstorms are common in July and August and can be quite severe. Several mule deer and one of the park benches have been struck on the trail around the crater rim. Severe weather may close the road and/or trails at the volcano.
Rattlesnakes are found within the monument. Stay on developed trails for safe hiking.
The Volcano Road, which leads to the rim, is approximately two miles long. Snow, ice accumulation, and/or severe thunderstorms can also close the Volcano Road. Current road conditions are available by calling monument headquarters at 575-278-2201 x302.
Lodging
Lodging and camping are not available within Capulin Volcano National Monument.
Capulin, NM, 3 miles from the monument, had an RV and tent campground with some cabins for rent.
Des Moines, 12 miles east, has one small local motel.
Raton, NM, 30 west and Clayton, NM 58 miles east, have numerous local and national chain motels. Commercial campgrounds and state parks are also available in both Raton and Clayton.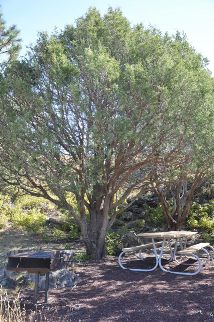 Where to Eat
Food service is not available within Capulin Volcano National Monument.
A picnic area in the monument is open year round. The picnic area has tables, restrooms and trash containers; restrooms are closed from mid-October until May.
The closest restaurant is The Sierra Grande Restaurant, 12 miles east in Des Moines, is open year round for breakfast, lunch and dinner.
Other restaurants and fast food are available in Raton, NM 30 miles west, and Clayton, NM, 58 miles east of Capulin Volcano.
Weather
Elevations in the park ranger from approximately 7,000 feet to 8,182 feet on the crater rim. Windy conditions may exist at the top of the volcano.
Summers are mild (highs in the mid-80s). Thunderstorms are common in July and August. Light jackets may be needed during the summer.
Winters are cold, and blizzards may result in temporary park closures. Warm and layered clothing should be worn the rest of the year. Current volcano road conditions may be provided calling (575) 278-2201 x302.
Pets
Visitors traveling with pets should be advised, the National Park Service has prohibited pets on trails for many years. In particular, dogs chase wildlife, pollute water sources, and can become defensive and dangerous in unfamiliar surroundings. Pet owners have the burden to assure their pet does not damage the park values for others in those areas where pets are allowed.
Should you choose to bring your pet to Capulin Volcano, please be aware pets are only allowed in parking areas and on the nature trail by the visitor center. Pets are not allowed on the Crater Rim and Crater Vent trails. Pets are not allowed on unpaved or poorly paved trails, on trails signed as not allowing pets, or in park buildings. Pets must be restrained on a leash not more than six feet long or otherwise physically restrained. Leashed pets may not be left unattended. For the courtesy of other visitors, pet owners are responsible for cleaning up and depositing pet feces in trash receptacles.
These regulations protect both pets and wildlife from disease and each other.