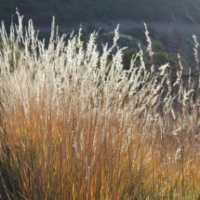 NPS L. Cartmell
Capulin Volcano lies within a transition zone, from the high elevations of the Rocky Mountains to the sweeping grasslands of the Great Plains. The prevailing wind direction in this region is westerly. Once precipitation moving into the region reaches the grasslands, there is generally only enough water to support short (less than 2 feet) and medium-sized (2-4 feet) grasses. However, as the winds travel toward Capulin, they pick up more moisture and as a result deliver enough precipitation to support a few tall grass (over 5 feet) species.
Within the monument, shortgrass prairie is dominant. Medium- sized grasses, and the three main species of tall grasses (Big Bluestem, Indiangrass, and Switchgrass) are also present. Blue grama and Sideoats grama are two dominant grasses that thrive in the monument.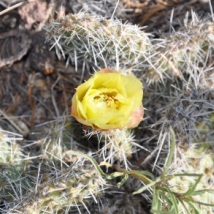 NPS L. Cartmell
Desert plants
, such as cacti and yuccas, also live on the short-grass prairie within the monument among the grasses and shrubs. With an annual rainfall averaging around 15 inches, the monument offers a dry climate for desert plants common to the southwest.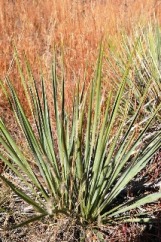 NPS A. BUCCANERO
The yucca plant is found throughout the monument, living well under dry conditions. With narrow, blade-like leaves, it grows to an average height of two feet. In the summer, yuccas grow a stem that rises two to four feet above the leaves and blooms with white-green flowers; early settlers termed the beautifully blooming plant "lamparas de Dios," or "lamps of the Lord." The fibrous leaves can be stripped and woven into rope, used by Native Americans to create baskets, sandals, and mats. Yucca has been given the common name soapweed, as Native Americans crushed the roots to make a mild soap and shampoo.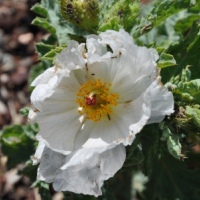 NPS L. Cartmell
Abundant
wildflowers,
such as Prickly Poppy, Indian Paintbrush, Sunflowers, Lupin, and Beardlip Penstemon, are found throughout the monument. Wildflowers bloom late at Capulin, arriving in mid-June and lasting through the month of August.