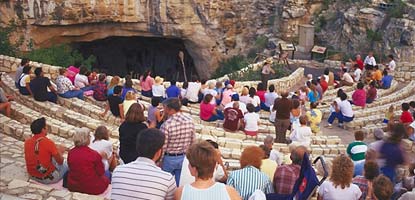 NPS Photo.
All visitors to the park are encouraged to tour the main section of the cave, the Big Room self-guided tour. The Natural Entrance self-guided tour is also very impressive, but it is not recommended for visitors with any kind of health problems because it is very steep.
Guided tours of varying difficulties in Carlsbad Cavern and other park caves are available. To reserve tickets for a guided tour, call 1.877.444.6777 or visit Recreation.gov.
While there are a variety of cave tours available-from the self-guided areas of the Big Room to crawling through narrow passageways on the Hall of the White Giant Tour - there are also opportunities for hiking and backcountry camping, attending programs in the Visitor Center to watching the incredible exodus of Mexican Free-tailed bats out of Carlsbad Cavern at dusk in the summer.
Additionally, Carlsbad Caverns National Park will be hosting Star Party events. The park is a perfect spot for viewing the wonders of the night sky due to its location away from the lights of local communities.