Elevator Renovations

Allow more time to visit and expect lines for small elevators while large elevator system is renovated. Walking exit is steep.
Traveling with Pets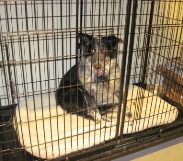 NPS photo
Be aware that having a pet with you will limit your activities and explorations in the park. In addition, desert temperatures, thorny vegetation, and predators may be a serious threat to your pet's well-being.
Please consider the following points before deciding to bring a pet:
Pets are not allowed on park trails, off roads, or in the cave.

Pets need to be on a leash no longer than six feet in length (or in a cage) at all times.

You are not allowed to leave your pet unattended in vehicles when the outdoor temperature exceeds 70 degrees Fahrenheit as it creates a danger to the animal.

Pet etiquette and park regulations require that you always clean up after your pet and dispose of waste in trash receptacles.
The park concessioner, Carlsbad Caverns Trading Company, operates a kennel service where, for a fee, you may leave your pet in a temperature controlled environment while you tour the cave. The kennel is for day use only, not into the evening or overnight. For specific questions, contact them at (575) 785-2281.

The concessioner accepts no responsibility for injuries that might occur during a pet's stay in the kennels and does not require any vaccination records for the pet.

There are three sizes of cages, length x height x width in inches:
Extra tall 47.5 x 32.5 x 24

Medium 47.5 x 24 x 24

Small 23 x 24 x 24
Pets are kept in cages relative to their size, such as a small dog in a small cage.
Water is provided for the pet, but the owner must provide food or bedding if they feel it's needed.
Employees do not handle pets and do not remain in the kennel room with the pets.
Did You Know?

The limestone rock that holds Carlsbad Cavern is full of ocean fossil plants and animals from a time before the dinosaurs when the southeastern corner of New Mexico was a coastline similar to the Florida Keys.