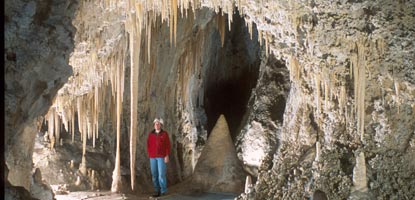 NPS Photo by Peter Jones.
In 1924, National Geographic expedition members wrote about the wonders of Lower Cave. Visitors today can see the evidence left behind from these and other explorers. Highlights of this tour include The Rookery, with countless nests of cave pearls, the Colonel Boles Formation, and an incredible diversity of cave formations that compete for your attention almost everywhere you look. A strenuous descent of sixty feet of ladders and a knotted rope at the tour entrance sometimes causes participants to back out. If you have a fear of heights or difficulties with ladders, you may wish to consider visiting
Left Hand Tunnel
instead.
Reservations are required for the Lower Cave tour. To make reservations call 1.877.444.6777 or visit Recreation.gov.
Cost: $20 for adults and $10 for children, Senior and Access Pass holders. Tour participants must also purchase an entrance fee ticket. Backpacks are NOT allowed on this tour.
Duration: 3 hours
When: Check tour schedule chart for tour times throughout the year.
Where: Tour departs from the visitor center theater.
Requirements: Ages 12 and over. Anyone under 16 must be accompanied by an adult. Participants must be physically and mentally able to safely negotiate cave passages containing fragile formations without harm to the cave, yourself, or others.
Good sneakers or hiking boots and three (3) AA batteries.
In an effort to prevent White-Nose Syndrome at Carlsbad Caverns National Park, tour participants will NOT be allowed to enter cave areas with shoes, clothing, and/or equipment until they have been screened and decontaminated.
**If participants are taking more than one adventure tour (Lower Cave, Hall of the White Giant and Spider Cave tours), clothing and gear used on one tour must be cleaned before use on another tour. If clothing or gear is not clean, participation in any tour may not be allowed.**
Tour Schedule

When does your tour start? Please pick up your tickets at the Visitor Center Ticket Desk 30 minutes prior to tour time. Read More

Make reservations online or call 1.877.444.6777.

There's limited space on guided tours... make your reservations now!

Cave Tours

What tour is right for you?! Read More