Lodging & Restaurants
Where to Stay
There is no lodging available within Carlsbad Caverns National Park. Camping is allowed only in the backcountry, at least a half-mile from roads and parking lots, and requires a free permit which is issued at the park's visitor center. The nearest hotel and private campground is in White's City, just at the entrance to the park. White's City is privately owned and may be contacted at 800-CAVERNS or (575)785-2291.
The town of Carlsbad, New Mexico has numerous lodging, campground and dining options. It is located 25 miles north-east of the park, on highway 62/180. For a list of businesses, please contact the Carlsbad Chamber of Commerce at (575) 887-6516 or visit www.carlsbadchamber.com.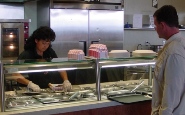 NPS Photo
Where to Eat
During visitor center hours, food is available at Carlsbad Caverns Trading Company, located at the west end of the building, past the gift shop. Visitors may choose a sandwich, salad, yogurt, or other snack from the grab-and-go coolers or have a salad, sandwich, or meal made to order at the hot/cold food line. A variety of bottled, fountain and hot drinks are also available.
While you are touring Carlsbad Cavern, you may take a break in the underground rest area, located at the base of the elevators. This area has restrooms, drinking fountains, and a snack bar also operated by Carlsbad Caverns Trading Company. Please consume only food purchased in the underground lunchroom there. A limited selection of sandwiches, salads, and beverages is available for purchase.
Please keep in mind that in order to protect the cave and the wildlife - any consumption of food and drink, except plain, unflavored water, is prohibited in any cave except in the underground rest area in Carlsbad Cavern. Diabetics and persons with other medical conditions requiring them to consume food and drink while in the cave are permitted on a limited basis. Food use has the potential for cave contamination, increased litter, and increased animal attraction into cave areas not usually frequented by wildlife.
If you brought food with you, picnic tables are located at the east end of the visitor center parking lot and at Rattlesnake Springs Picnic Area, about 15 miles from the visitor center. Please check with a park ranger for fire restrictions before using a grill or camp stove.
Outside of the park, dining is available in White's City, located just outside the park's main entrance, or for a variety of options, the drive to the town of Carlsbad takes about 30 minutes. For a list, contact the Carlsbad Chamber of Commerce at (575) 887-6516 or visit www.carlsbadchamber.com.