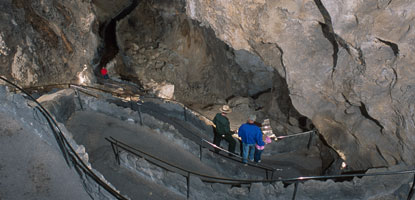 NPS Photo by Peter Jones.
While the elevators are out-of-service you must hike in/out of the Natural Entrance, 1.25 miles each way on a steeply descending trail. We recommend you begin your hike in by noon to ensure you have time to see the Big Room.
If you have been in any cave in the past seven years with the same shoes/ equipment you are bringing to Carlsbad Caverns, we may ask to clean your items to protect our bats from the spread of a highly contagious and fatal bat fungus. For more information about the disease and park policies, click here.
The cave climate is cool and averages about 56°F (13°C) year-round. You may want to bring a light jacket or sweater. Comfortable, rubber-soled shoes with good traction are appropriate.
Anyone under 16 must be accompanied by an adult 18 years of age or older.
We reserve the right to alter any tour due to safety and other considerations.
NOTE: Baby strollers are not permitted in the cave. Bring a baby backpack if you need to carry your child.
Self-Guided Tours
The basic cavern entry is by way of two self-guided routes, the Big Room and the Natural Entrance routes.
Tickets are sold at the visitor center each day, except Thanksgiving (Nov. 26), Christmas (Dec. 25) and New Year's Days (Jan. 1) when we are closed. Entrance fee tickets are good for three days but do not include guided or other special tours. More...
Guided Tours
Reservations are highly recommended for all guided cave tours and require 48 hours advance notice by calling 877.444.6777 or www.recreation.gov. A general entrance fee ticket is required in addition to the guided tour fee for King's Palace, Left Hand Tunnel, Lower Cave, Spider Cave, Slaughter Canyon Cave and Hall of the White Giant. Note:Children under 4 years are not permitted on any of the guided tours offered at Carlsbad Caverns. Minimum age requirements differ for each tour. More...

Make reservations online or call 1.877.444.6777.

There's limited space on guided tours... make your reservations now!

Tour Schedule

When does your tour start? Please pick up your tickets at the visitor center ticket desk 30 minutes prior to tour time. Read More