Poplar Grove Youth Group Tent Campground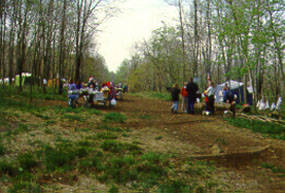 NPS Photo
Poplar Grove
is open by reservation only (no walk-ins), to adult supervised organized youth groups whose members are under age 18.


Season dates and fees.
There are 3 sites within Poplar Grove. Each site accommodates up to 25 persons. Groups share pit toilets, water and a pavilion. Each site has picnic tables, grills and a fire circle. Groups provide all personal convenience items, including toilet paper.
Reservations
: Reservations can be made by calling (877) 444-6777, or through the Internet at
www.recreation.gov
. When making a reservation, please be prepared to provide: preferred arrival and departure dates; the name, address and phone number of the group leader; the name of the group and total number of campers anticipated.
Reservations are accepted on a first-come, first-served basis but cannot be confirmed until payment is received. Credit card payment will be accepted by Internet or phone and instructions will be given for mail payments. You will receive written confirmation of your payment and reservation. You will be charged for cancellations made more than 14 days before the scheduled arrival. NO REFUNDS will be made after this time unless the National Park Service cannot provide the site.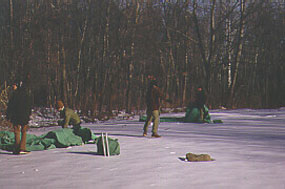 NPS Photo
Check-ins Groups must check-in at the Visitor Center between 1:00pm and 4:30pm. Late check-ins may be arranged with advance notice. Groups must check-in before proceeding to the site. Groups must check-out no later than 12:00 noon on the day of their departure.
Special Considerations All groups must submit a complete roster, which will be used by rangers to locate campers in an emergency. Boy Scouts must submit a Council Tour Permit at check-in.
Parking: One car per site may be parked at Poplar Grove. All others will remain at Camp Round Meadow, 1 mile away.
The nearest phone is located at Camp Round Meadow. Please test you cell phone coverage, not all cell phones work in all locations in the Park.
No vehicles are permitted at the site from mid November through March 1. Access is by foot from Camp Round Meadow. Groups should be prepared to pack supplies in and trash out during this time. Trash receptacles are located in Camp Round Meadow. Groups must provide bags and transport trash to the receptacles.