Temporary Partial Closure

Due to increased security measures, portions of Catoctin Mountain Park will be closed effective Friday, July 18, 2014 at approximately 12:00 noon. Closures are scheduled to continue through Sunday, July 20, 2014 at approximately 2:00 PM.
Orienteering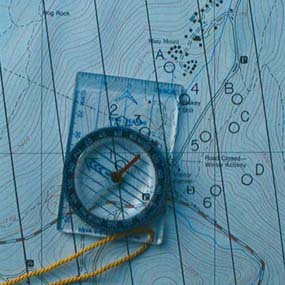 NPS Photo
Basic orienteering (map and compass reading) courses are offered at the park visitor center in March and November. Please call (301) 663-9388 for specific dates and times, reservations are required.
The basic orienteering course is located near the Park visitor center and consists of 10 points, the first six points constitute a loop of approximately 1.5 miles which was designed for the beginner. An additional 4 points designated on the map with letters are to challenge the orienteerer as their skill level increases.
The second course, known as the west side course, is located within the area bounded by Park Central Road, Manahan Road, and Foxville-Deerfield Road. This course consists of nine numbered points, which when successfully completed form a walk of approximately 1.5 miles.
If you are experienced in orienteering and wish to practice your skills, the park maintains the two courses that are available for public use from November 1st through April 15th. The courses are closed the rest of the year in order to lessen the impact on forest vegetation and wildlife. The courses are used on a first-come, first-served basis if no advance reservations are made.
Groups may use the courses independently between November 1st and April 15th. a written request prior to the group's arrival should be directed to:

Catoctin Mountain Park

c/o Chief Ranger

6602 Foxville Road

Thurmont, MD 21788-1598
This assures that multiple groups will not be using the course at the same time.

Did You Know?

Camp Hi-Catoctin, a camp for federal employees was adapted by President Franklin Roosevelt for his Presidential retreat during WWII and named Shangri-La. President Eisenhower renamed the retreat to Camp David. The retreat is not open to the public.