Temporary Closures

Catoctin Mountain Park and Park Central Road are closed due to inclement weather.
Operating Hours & Seasons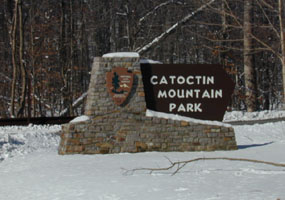 NPS Photo
The park is open all year from dawn until dusk.
Visitor Center hours:

| | |
| --- | --- |
| Sunday-Saturday | 9:30 am - 5:00 pm |









The Catoctin Mountain Park Visitor Center will be open on Veterans Day, November 11, 2013.
The Catoctin Mountain Park Visitor Center will be closed on the following holidays:
Thanksgiving, November 28, 2013
Christmas, December 25, 2013
New Year's Day January 1, 2014
Expect seasonal road closures from December through March.
Watch for alerts announcing temporary closures.These are also posted on our home page and on our Facebook page at https://www.facebook.com/CatoctinNPS
---
For more information about camping or lodging in the park's facilities, please click on the links below:

Owens Creek Campground has 50 sites (3 ADA) which are available on a first-come, first-served basis. No reservations. 2 comfort stations, 1 with hot showers.
Poplar Grove
is open by reservation, to adult supervised organized youth groups whose members are under age 18.

There are two Adirondack Shelters which are 3-sided shelters that offer back-country solitude to hike-in campers. Reservation required.
Camp Misty Mount is a cabin rental facility for individuals, families, or small groups.
Camp Greentop is for organized groups of 60 or more members who may rent the entire camp on select dates. The total capacity of the camp is 140.
Camp Round Meadow is a four-season dormitory camp with a gymnasium, classrooms, and a dining hall. The camp has space for 120, and most of the facilities are wheelchair accessible.



Did You Know?

Early April, 1942 a basic training school for the Office of Strategic Services (OSS) was opened at Area B (Catoctin Mountain Park).The school evolved into primarily paramilitary training with British Captain William Fairbairn, "Fearless Dan" or "Shanghai Buster" as it's most famous instructor.