"Where Is It In The Park?", Correct Answer to Question 4: The letter "B" represents Chimney Rock and the letter "E" represents Cunningham Falls
Way to go!
Question 4.

Chimney Rock is one of the favorite overlooks in the park. Cunningham Falls State Park is the only waterfall in the immediate area. What letters show where they are on the map?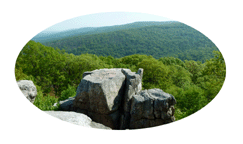 Answer: On this map, Chimney Rock is designated with the letter "B" and can be accessed by hiking from the visitor center on a 3.8 mile loop OR on a 1.1 mile one-way trail that starts at Park Headquarters.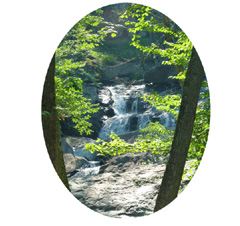 Answer: Cunningham Falls, which is designed with the letter "E", is 78 feet tall, the largest cascading waterfall in Maryland. The 2.8 miles roundtrip trail to Cunningham Falls starts at the visitor center.