"Where Is It In The Park?", Correct Answer to Question 1: The letter "A" represents the Visitor Center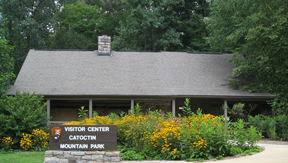 Right!
Question 1. Where on the map is the visitor center?
Answer:
The Catoctin Mountain Park Visitor Center is designated on this map with the letter "A" and is three miles west of Thurmont, Maryland on Route 77 on the north side of the road.