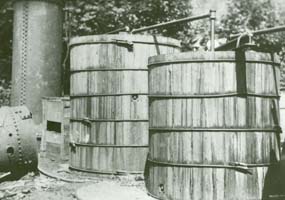 Blue Blazes Whiskey Still On July 31, 1929, Deputy Sheriff Clyde L. Hauver was fatally wounded in a raid on the Blue Blazes Still. It was a large commercial operation, a "steamer" still. More than 25,000 gallons of mash were found in 13 vats of 2,000 gallon capacity each. Police eventually tracked down several suspects, and two moonshiners were convicted in connection with the murder after several days of conflicting testimony.
Tales of a double-crossing informant, a love triangle, arson, and other rumors spread throughout central Maryland. What exactly happened remains a mystery.
Today another still sits on the banks of Distillery Run. It's quite different than the set up found that day. The new Blue Blazes still is more typical of the smaller moonshine still of an earlier day. Even more different -- visitors are welcome -- not challenged.