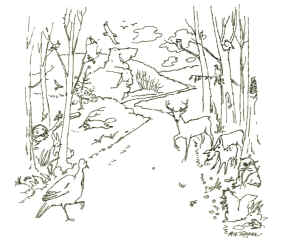 If you are developing your own field trip, there are several shorter trails in Catoctin Mountain Park that offer excellent learning opportunities.
Give us a call if you'd like to discuss the possibilities and opportunities. (301) 663-9388.
The Brown's Farm Trail, located at the Owens Creek Picnic Area, is a 1/2 mile loop with a brochure that explores several environmental concepts.
The Hog Rock Trail is a mile loop trail featuring tree identification. A brochure is available.
The Whiskey Still Trail is a 1/2 mile round trip near the park Visitor Center that follows a stream. Wayside signs along the trail discuss stream ecology and the story of the Blue Blazes Whiskey Still.