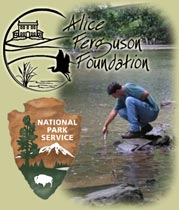 Alice Ferguson Foundation
---
Free Field Trips with Bridging the Watershed
Junior-high to high-school students can apply their science skills to improving the Potomac watershed. At Catoctin Mountain Park, students can learn about the watershed in its cleanest state.
Teachers must register with the program through a brief training session. Registered teachers will be eligible to schedule half-day field trips to national parks in the region. They may select experiential lessons from a variety of curriculum-based modules. And yes, it really is free.
Contact the Alice Ferguson Foundation to get involved.

---
Field Trips by Request
Program size is limited to a minimum of 10 and a maximum of 25 students. Please notify our staff of any special needs (i.e. hearing impaired, wheelchairs, etc.) that your students may have. We prefer one chaperone for every 5-8 students. Programs generally run for 30-45 minutes.
Buses
Buses may park at the Visitor Center. Bus traffic is restricted on Park Central Road. Please ask a Ranger for specific information.
Picnic Areas
Picnic areas are accessible by bus and have tables, grills, and restrooms available. Chestnut Picnic Area is open all year and Owens Creek Picnic Area is open seasonally (April - November). There is a short nature trail at each picnic area.
Restrooms
Restrooms are available at the Visitor Center and at both Chestnut and Owens Creek Picnic Areas.
Requesting a Program
Send a letter of request including program title, date, time, number of students, and phone numbers to:
Catoctin Mountain Park
c/o Chief Ranger
6602 Foxville Road
Thurmont, MD 21788-1598