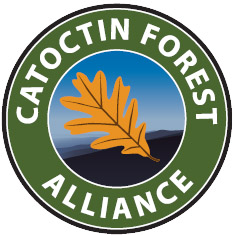 ---
Application
Amateur and professional artists of two- and three-dimensional arts, photographers, videographers, writers, and poets are encouraged to apply. In the future, we expect to open the program to musicians and other performing artists.
The Catoctin Forest Alliance, Inc. will accept applications no later than February 15.
The application requires:
Your resume of no more than two pages.
Four examples of your recent work:
- Visual artists: four 35mm slides in standard mounts or four images on a CD or DVD. Label materials with your name, medium, image size, title, and indicate the top of the slide.
- Writers: a brief (6-page maximum) manuscript excerpt, short story, essay, poem or other work.
A completed application form. *Save the application form to your computer before inputting your information or your information will not be saved. Then, open the form, input your information, save and submit with your application package by mail or email.
PLEASE NOTE - No submissions sent to the park will be returned to the artist.
Please submit materials to:
-or-
Artist-In-Residence Program
Catoctin Mountain Park
6602 Foxville Road
Thurmont, MD 21788