Architecture & Construction
The Castillo de San Marcos is unique in North American architecture. As the only extant 17th century military construction in the country and the oldest masonry fortress in the United States it is a prime example of the "bastion system" of fortification, the culmination of hundreds of years of military defense engineering.
It is also unique for the material used in its construction. The Castillo is one of only two fortifications in the world built out of a semi-rare form of limestone called coquina (The other is Fort Matanzas National Monument 14 miles south)
The fortress itself is both a product of and evidence to the multitude of forces both political and technological that created the competition for empire during the colonial era. But above all the Castillo is an enduring legacy of the craftsmanship and skill of the engineers, artisans and labourers who built it.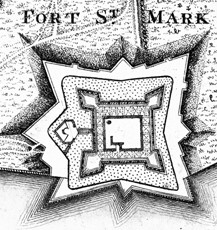 Bastion System
Originating in Italy in the 15th century the particular star shaped design of the Castillo is a result of architecture adapting to technology. The change in warfare brought about by black powder weapons created new types of defensive structures adapted both to withstand or avoid the impact of cannon projectiles and to effectively mount cannons to repel any attackers. Of the major architectural variations the "bastion system," named for the projecting diamond or angle shaped formations added onto the fort walls, was the most commonly and effectively used.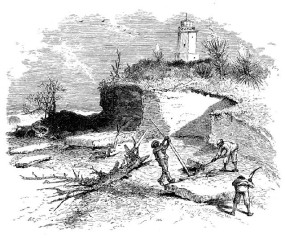 The Stone That Saved Spanish Florida
Given its light and porous nature, coquina would seem to be a poor choice of building material for a fort. However the Spanish had few other options; it was the only stone available on the northeast coast of La Florida. However, coquina's porosity turned out to have an unexpected benefit. Because of its conglomerate mixture coquina contains millions of microscopic air pockets making it compressible.
A cannon ball fired at more solid material, such as granite or brick would shatter the wall into flying shards, but cannon balls fired at the walls of the Castillo burrowed their way into the rock and stuck there, much like a bb would if fired into Styrofoam. So the thick coquina walls absorbed or deflected projectiles rather than yielding to them, providing a surprisingly long-lived fortress.