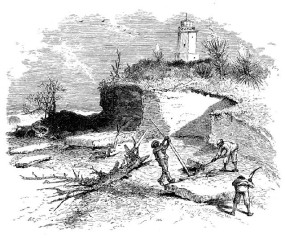 The Stone That Saved Spanish Florida
Given its light and porous nature, coquina would seem to be a poor choice of building material for a fort. However the Spanish had few other options; it was the only stone available on the northeast coast of La Florida. However, coquina's porosity turned out to have an unexpected benefit. Because of its conglomerate mixture coquina contains millions of microscopic air pockets making it compressible.
A cannon ball fired at more solid material, such as granite or brick would shatter the wall into flying shards, but cannon balls fired at the walls of the Castillo burrowed their way into the rock and stuck there, much like a bb would if fired into Styrofoam. So the thick coquina walls absorbed or deflected projectiles rather than yielding to them, providing a surprisingly long-lived fortress.