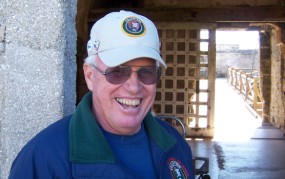 Become a volunteer at the Castillo and help keep our fascinating history alive.
There are numerous ways to participate in the programs, events, and daily life of the park through the National Park Service VIP (Volunteers In Parks) Program.
For More information Contact: VIP Co-ordinator at 904-829-6506, x233 or send us e-mail.
Volunteer Opportunities
Uniformed volunteers assist with the daily operations and maintenance of the park in a variety of roles. Current available positions include:
Visitor Services Assistant
Maintenance Assistant
Administrative Production Assistant
Living History Volunteers help make the past come alive at the Castillo. Dressing in a variety of period uniforms they assist in informal talks, crafts demonstrations, living history events and historic weapons firing demonstrations. Living History Assistants help in maintaining the historical and logistical assets of the fort.
Living History Volunteer
Living History Program Assistant