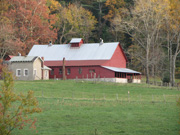 nps photo
Visiting Connemara Farms Goat Dairy
Mrs. Sandburg owned and operated a premier goat dairy from 1935 to 1965. Here at Connemara the dairy became a Grade A operation, with milk being distributed to local dairies and sold in stores around the community.

Mrs. Sandburg's goat breeding program produced champion goats and led to the improvement of goats as milk producing animals.
Enjoy the Connemara Farms' goat-herd. The park service raises goats that represent the three breeds of goats Mrs. Sandburg raised at Connemara. Rangers and volunteers are on hand to share this facinating story about goats and Mrs. Sandburg's dairy goat operation.