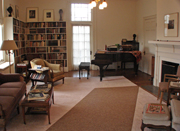 nps photo
Guided Tours of the Sandburg Home

The house remains open for tours during preservation work. Things just look a little different inside. During 2015 most of the Sandburg furnishings will be packed away for important work to take place inside during 2016-17. We still invite visitors to walk with a guide through the house to learn about the Sandburg family and see their home "behind the scenes". Displays will help to bring back the feel of the furnished rooms. Taking a guided tour of the historic Carl Sandburg Home is an insightful glimpse into the lives of the Sandburg family. The 30-minute house tours are offered throughout the day, except Christmas day. First tour begins at 9:30am; the last tour begins at 4:30pm. Each tour is limited to 15 visitors. There is a small fee to tour the house: $5 adults age 16-61, $3 adults age 62 and older, Free youth 15 and younger.
We can only accept cash or check for tour fees.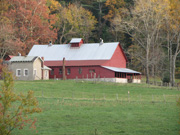 nps photo
Visiting Connemara Farms Goat Dairy
Mrs. Sandburg owned and operated a premier goat dairy from 1935 to 1965. Here at Connemara the dairy became a Grade A operation, with milk being distributed to local dairies and sold in stores around the community.

Mrs. Sandburg's goat breeding program produced champion goats and led to the improvement of goats as milk producing animals.
Enjoy the Connemara Farms' goat-herd. The park service raises goats that represent the three breeds of goats Mrs. Sandburg raised at Connemara. Rangers and volunteers are on hand to share this facinating story about goats and Mrs. Sandburg's dairy goat operation.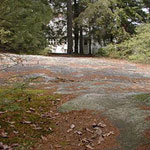 nps photo
Outdoor Pursuits

"It is necessary now and then for a man to go away by himself and experience loneliness; to sit on a rock in the forest and to ask of himself, 'Who am I, and where have I been, and where am I going?'...If one is not careful, one allows diversions to take up one's time-the stuff of life" -Carl Sandburg as quoted from a letter to his friend, Ralph McGill.



Enjoy the solitude of Connemara. Hike its many trails and take from it the energy to avoid diversions. Click here for a trail map.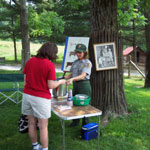 nps photo
Special Programs and Events
Park Ranger programs are given throughout the summer months. Please call a Park Ranger at 828/693-4178 to check the schedule for the time you wish to visit.

Also, from June until mid-August, live performances of Sandburg's Rootabaga Stories and excerpts from the Broadway play, The World of Carl Sandburg, are presented at the park amphitheater.