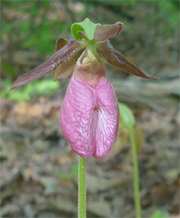 For a park of its size, Carl Sandburg Home has an amazing diversity of ecological communities. The park contains forests and woodlands, rock outcrops and cove forests, fields and ponds. Though only 108 ha (267 acres), Carl Sandburg Home is home to at least 519 species of vascular plants and fourteen different ecological communities. In addition to preserving a great cultural resource, this park also preserves a significant ecological resource in a rapidly developing area that, if managed properly, will allow the region to maintain its ecological heritage.
In addition to the resources listed above, feel free to browse through our inventories. These are large files due to the amount of diversity located on our grounds.


Mushroom Inventory (.pdf 1.72MB)
The Carl Sandburg Home NHS is home to a variety of mushrooms. Explore the inventory to learn about the types of fungi located on our grounds.