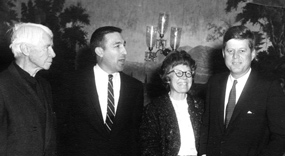 Unknown
Youngest Daughter: Helga
Helga
The wishes on this child's mouth
Came like snow on marsh cranberries;
The tamarack kept something for her;
The wind is ready to help her shoes.
The north has loved her; she will be
A grandmother feeding geese on frosty
Mornings; she will understand
Early snow on the cranberries
Better and better then.
Carl Sandburg, Smoke and Steel, 1920

Helga Mary Steichen Sandburg was born November 24, 1918, while Carl was in Sweden. Initially named Mary Ellen, after a friend, Helga was given her new, Swedish name soon after her father's return home.

Like her literary father, Helga enjoyed writing. In 1958, she won the Emily Clark Balch prize for "Witch Chicken," published in the Virginia Quarterly Review. In addition to her published books, her work appeared in Saturday Review, Harper's, The New Yorker, McCall 's, Seventeen, and Georgia Review.
Helga shared her mother's affinity for animals and raised not only goats, but registered Siamese cats and Doberman Pinschers, and cared for Black Angus cattle, chickens, ducks, geese, and honey bees.
As the only Sandburg daughter to marry, she raised two children, John Carl and Paula.
Visit our Virtual Museum Exhibit to learn more information on Margaret, Janet, and Helga Sandburg .