Curriculum-Based Lesson Plans
(Intended to prepare your students for a park visit, but can be used as standalone lessons in the class as well)
The park's Education Program provides grade appropriate activities to help you and your students learn about Carl Sandburg. Pre and Post activities can be completed in the classroom while on-site activities can be completed while visiting the Carl Sandburg Home National Historic Site. Find the activities below that best meet your teaching needs. If you would like to visit with your class, please see Plan a Field Trip.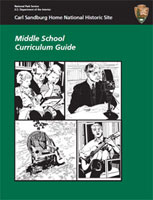 Middle School Curriculum Guide (to be used in the classroom)
The Middle School Curriculum Guide is an interdisciplinary and age appropriate classroom resource guide with detailed lesson plans and relevant activities. It can be used by middle school teachers when integrating Carl Sandburg in language arts and social studies curricula and when preparing for an on-site visit to Carl Sandburg Home NHS. Contact the park for a free printed copy of the guide or download a .pdf version.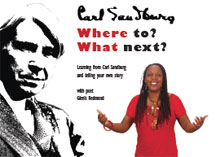 Where to? What Next? Education Film
This film explores Carl Sandburg's history, his family, his love of words, and hope for the future of America. Those elements that helped craft the poet, writer, biographer, folk singer and social activist he became. By exploring our own past and dreams for the future maybe we too can find a voice as Sandburg did, and share it through poetry, story or song. Play Video (requires Windows Media Player).
Use lesson plans with Where to? What next? They have been designed to meet education standards while creating an interactive and educational environment for students to learn about the life of the famous American poet, Carl Sandburg, while exploring their own life. You may contact the park's education program coordinator to have a free copy of the DVD and lesson plans mailed to your classroom.
Curriculum Materials Available from the National Park Service
The National Park Service Museum Management Program provides teachers and students with the opportunity to explore the museum collection of Carl Sandburg Home NHS and other national parks. Teaching with Museum Collections Lesson Plans are curriculum-based activities which meet National Education Standards.