Staff Wins Eastern National Sales Contest
News Release Date:
September 10, 2012
From May-July, Cane River Creole's Eastern National Sales outlet saw a 93% increase in passport book sales. That increase was enough for Cane River to win the Region 7 passport sales contest. The park staff was treated to a pizza party from regional manager, Becky Burke. The park's sales are up 66%, and apparently a portion of that increase is from passport sales. Congratulations to the crew at Cane River!
Did You Know?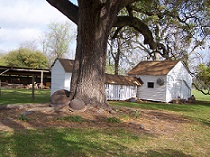 The complexity, integrity, and completeness of the park's extant vernacular architecture illustrate Creole resilience, resourcefulness, and adaptations to the environment.