Rangers Celebrate Black History Month with Outreach Programs
Date:
February 29, 2012
 NATCHITOCHES - In honor of Black History Month staff from Cane River Creole National Historical Park presented outreach programs at every Head Start classroom within Natchitoches Parish. Park Rangers read aloud the children's biography of Clementine Hunter, "Art from the Heart". After the story, students attempted to create their own piece of original art, using Clementine's unique style. 
Park staff is available to present outreach programs to schools, church groups, or any other type of organization. The programs can cover a variety of topics which relate to the in park's interpretive themes. If you are interested in hosting an outreach program, please call Nathan Hatfield at 318 356-8441.
Did You Know?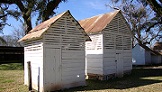 Cane River's French Creole cotton plantations
reflect completeness in their
historic settings, including their landscapes,
outbuildings, structures,
furnishings, and artifacts. They are the most intact French
Creole cotton plantations in the
U.S.