Getting Ready for 2016
The National Park Service turns 100 on August 25, 2016. To us, it's not about cakes and candles — it's about being an organization ready to take on the challenges of our second century. Our blueprint to get there — A Call to Action — outlines the innovative work we want to accomplish. Cane River Creole National Historical Park is a big part of this effort. Take a look at what we're doing locally and get involved!
Showing Results 11- 15 of 23
Did You Know?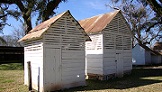 Cane River's French Creole cotton plantations reflect completeness in their historic settings, including their landscapes, outbuildings, structures, furnishings, and artifacts. They are the most intact French Creole cotton plantations in the U.S.