History of the Oakland-Prudhomme Store
The Oakland Plantantion store is the most important surviving structure for the interpretation of plantation life in the nineteenth and early twentieth century. According to Ann Patton Malone, "the post-bellum rural merchant was all things to the community ... the store was the marketplace, banking and credit source, recreation center, public forum, and news exchange."
Did You Know?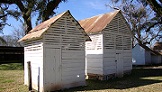 Cane River's French Creole cotton plantations reflect completeness in their historic settings, including their landscapes, outbuildings, structures, furnishings, and artifacts. They are the most intact French Creole cotton plantations in the U.S.