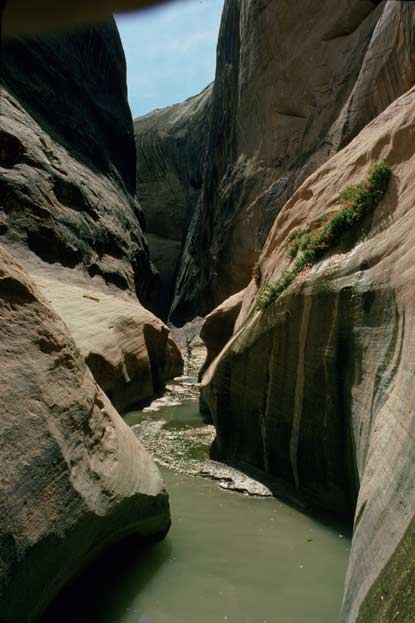 NPS
BACKCOUNTRY USE
Capitol Reef offers many hiking options for serious backpackers and those who enjoy exploring remote areas. Marked hiking routes lead into narrow, twisting gorges and slot canyons and to spectacular viewpoints high atop the Waterpocket Fold. Popular backcountry hikes in the southern section of the park include Upper and Lower Muley Twist Canyons and Halls Creek. Backcountry hiking opportunities also exist in the Cathedral Valley area and near Fruita...the possibilities are endless!
Stop in the visitor center for more information on backcountry hiking. If you plan to take an overnight hike, you need to obtain a free backcountry permit at the visitor center prior to your trip.
Backcountry group size cannot exceed twelve people.
BACKCOUNTRY DOs AND DON'Ts
DO:
Tell others your plans and expected return date.
Obtain a free backcountry permit prior to your hike at the visitor center.
Carry topographic maps and essentials.
Practice Leave No Trace wilderness ethics:

Plan ahead and prepare.
Travel and camp on durable surfaces. Stay on marked trails whenever possible. (When hiking crosscountry, walk in wash bottoms, on slickrock, or use animal trails to avoid stepping in cryptobiotic crust.)
Dispose of waste properly. Pack it in, pack it out. Bury human waste at least 6" (15 cm) in soil and at least 100' (30.5 m) from water sources.
Leave what you find.
Fires are allowed only in existing fire pans and not in the backcountry.
Respect wildlife.
Be considerate of others.
DON'T:
Collect firewood or build ground fires. Instead, use portable stoves for cooking.
Feed, approach or harass wildlife.
Pollute water sources by washing or bathing. You should always carry water away from the source to clean dishes or bathe then strain out food particles and disperse dirty water. Always use biodegradable soap. Never swim in waterpockets; lotion, sunscreen, and residue on skin can quickly pollute water sources that are not free-flowing.
Camp within 0.5 mile (0.8 km) or in sight of roads or trails. In narrow canyons, try to camp as far away from the hiking route as possible and out of sight.
Disturb or deface natural features, historic, or archeological sites.
Collect items of any kind, including rocks, plants, animals, or artifacts