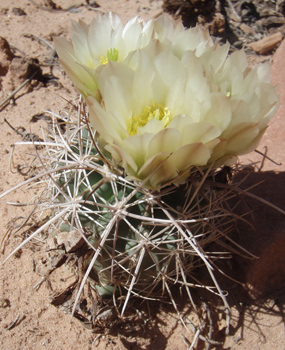 NPS
Common Names: Whipple's Fishhook Cactus
Scientific Name: Sclerocactus whipplei
Size (height & diameter): 2-12 in (5-30.5 cm) tall, 2-6 in (5-15 cm) diameter
Habitat: Found throughout the park in desert grasslands, mixed desert shrub, and pinyon juniper woodland communities.
Flowering Season: April - July
Range: Utah, Arizona, Colorado, New Mexico, and Nevada
Description: Whipple's fishhook cactus was named for the 0.5-3 in (1.3-7.6 cm) long spines that are hooked at the tip like a fishhook. The flowers are up to 2 in (5 cm) wide and typically pink, white, or yellow.