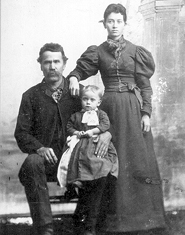 NPS
Latter-day Saints church officials at Salt Lake City sought to establish missions in the most remote niches of the intermountain west. In 1866, a quasi-military Mormon expedition in pursuit of American Indians penetrated the high valleys to the west. In the 1870s, settlers moved into these valleys, eventually establishing Junction (later renamed Fruita), Clifton, Giles, Elephant, Caineville, Aldridge, and Hanksville. Men from the expeditions of Major John Wesley Powell had also begun to explore the area.
Others followed soon after and tiny communities sprung up along the life-sustaining Fremont River including Loa, Fremont, Lyman, Bicknell, and Torrey. In 1880, Nels Johnson moved into Capitol Reef country and staked his homestead in Fruita. Fruita settlers recognized the abundance and accessibility of water and heat that reflected off canyon walls to the soil. Johnson planted the first orchards of apples, peaches, pears, plums, walnut, and almond trees.
Elijah Cutler Behunin led a group of pioneers to clear a wagon trail through Capitol Gorge which allowed settlers, church officials, miners, outlaws, and others to pass more easily through the Waterpocket Fold. Behunin also donated land for the Fruita Schoolhouse which was completed in 1896. His 12 year old daughter, Nettie, was the school's first teacher. The school remained open until 1941 when classes were consolidated and students were bussed to Torrey schools.