"...to promote and regulate the use of the...national parks...which purpose is to conserve the scenery and the natural and historic objects and the wild life therein and to provide for the enjoyment of the same in such manner and by such means as will leave them unimpaired for the enjoyment of future generations."
- National Park Service Organic Act, 16 U.S.C.1.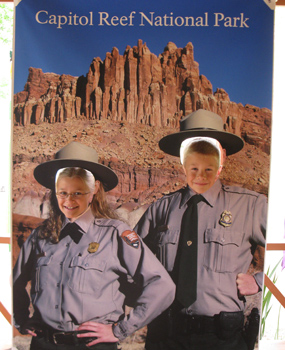 NPS
By fostering personal connections to heritage resources, the National Park Service (NPS) facilitates a sense of stewardship necessary to guarantee that the integrity of those resources will be protected and maintained unimpaired to enrich the lives of generations to come. Park rangers strive to educate visitors to enhance the understanding, appreciation, protection, and perpetuation of natural resources. National parks encourage visitors to explore the world, enhance a sense of personal enrichment, and create opportunities for more meaning participation in society.
With your help, future generations can continue to enjoy the natural and cultural resources of Capitol Reef National Park and explore their own intellectual and emotional connections. Connections to these resources provoke contemplation, strengthen our beliefs, and rejuvenate our spirits, encouraging us to become better stewards to each other and the world around us. By obeying park laws and educating others you can preserve the land for the enjoyment of others.
Return to Park Founders