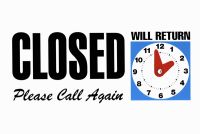 Closure Notices

This section includes notices regarding temporary park closures, primarily due to weather-related events, NASA launch operations, or temporary closures of parking areas & boardwalks for maintenance or repair.

For recorded park status information, call (321) 867-4077

07-08-14: Boardwalk # 3 at Playalinda closed today for repairs/replacement. This closure will remain in effect for up to 8 weeks.

---
Road Closure Notices