Change in Harkers Island Visitor Center Hours

The Harkers Island Visitor Center is open Sunday through Saturday from 9:00 a.m. until 5:00 p.m.
Morehead City Harbor Dredged Material Management Plan

Cape Lookout National Seashore is a cooperating agency in the Morehead City Harbor Integrated Dredged Material Management Plan being developed by the U.S. Army Corp of Engineers. The full plan draft can be downloaded from the following link. More »
Fees & Reservations

Lighthouse Tickets
The Cape Lookout Lighthouse is open for climbing during the summer season.
During the open season, tickets are available for sale at the Light Station Visitor Center in the lighthouse area.
Information on ticket prices and reservations, climbing dates and times, and safety regulations is available on the Climbing the Cape Lookout Lighthouse webpage.
Educators including a lighthouse climb as an educational activity during their field trip may be eligible for an Academic Fee Waiver for students' lighthouse tickets.
Ferry Rates (round trip)
All ferries are permitted by the National Park Service but are privately operated and licensed with their fees set by the North Carolina Utilities Commission.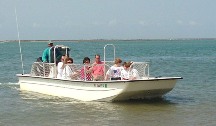 Passenger ferries
Rates vary ($15 to $20 per adult, reduced for children) with the individual ferry service. Rates will also vary with the season (lower in summer, higher in winter) and with the amount of gear being transported (campers with gear may be charged an additional fee). Contact the ferry directly for the current price. All rates quoted are for roundtrip fares.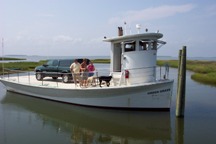 Vehicle ferries
Passengers: Rates vary ($14-$16 per adult, reduced for children) with the individual ferry service.

Vehicles: Rates vary according to vehicle size. Standard size vehicles (18 ½ feet and under) run about $75 - $80 per vehicle. Small utility vehicles and ATVs cost less, larger vehicles cost more.

All rates quoted are for roundtrip fares. Contact the ferry directly for current pricing and more information.
Beach Shuttles
Four-wheel drive shuttle services are available for a fee. Contact the service directly for hours and rates.
Cape Lookout Conch Tours (252-732-4578) Runs from the Cape Lookout Light Station Transportation Shelter to the area of Cape Village and the point of Cape Lookout.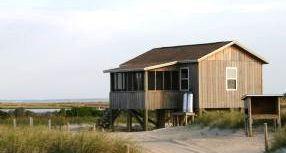 Cabin Rentals
The rustic cabins of Core Banks give you views of pristine beaches, easy access to fishing, and a chance to get away from it all. Each cabin has a hot water heater, propane oven/stove, kitchen with cabinets, table and chairs, and private bath. Visitors need to provide their own linens, bedding, and cookware.
More information can be found on the park's lodging page.
Camping
There are no designated campgrounds in the park and no fees for beach camping. However, groups of 25 or more must obtain a Special Use Permit for overnight camping. More information on camping in the park can be found here.
Permits
Some activities--including weddings, commercial filming or photography, and long-term parking (more than 24 hours)--require special use permits. Applications and information can be found on the park's permit page.


Did You Know?
Lightening whelks and knobbed whelks can be distinguished by the direction their spirals open. Lightening whelks open on the Left side. Cape Lookout National Seashore More...