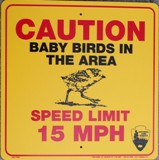 Marks areas where vehicles may pass through locations where bird chicks may be feeding. This sign is used when a detour route is not available.
Slow down and watch ahead of the vehicle for chicks. These chicks are very small (similar to a cotton ball stuck on two toothpicks) and blend in with the beach sand.
Be especially alert for chicks hiding in the tracks left by other vehicles. Chicks will seek shade in these tracks and "freeze" in place (not run away) when another vehicle approaches.
Season of use: May through August