Change in Harkers Island Visitor Center Hours

Harkers Island Visitor Center hours will be Monday through Friday from 9:00 a.m. until 5:00 p.m. until further notice.
Academic Fee Waiver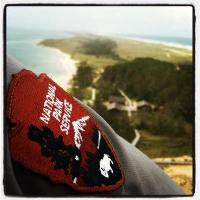 NPS Image, Drew Grice
National Park Service regulations allow schools and other bona fide educational institutions to receive entrance fee waivers for visits conducted for educational or scientific purposes related to the resources of the area.
There are no entrance fees for Cape Lookout National Seashore. However, the park is offering fee waivers for lighthouse climbs (ferry transportation fees still apply) to school groups that meet the following criteria:
The group is from a North Carolina school (public, private, or home school).
Students are in 4th grade. Groups with students in multiple grades are eligible for fee waivers for 4th grade students, but ticket prices still apply for students in other grades.
Students are currently studying North Carolina state history.
Students complete the Pre-Site Visit, On Site Visit, and Post-Site Visit activities in the Lighthouse Curriculum Materials. These materials can be downloaded from the Lighthouse Fee Waiver Materials webpage.
Ticket fees will also be waived for 1 chaperone (18 years old or older) for every 9 qualifying students.
Please note: Climbers must meet all the safety requirements for climbing the lighthouse outlined on the Climb the Cape Lookout Lighthouse webpage.
Application Procedures
Make a reservation for your group through the lighthouse reservation system at least 6 weeks prior to your climb date.

Information on reservation dates and times can be found on the Climb the Cape Lookout Lighthouse webpage.
When making the reservation, be sure to mention that you are requesting an Academic Fee Waiver.

An application packet can be downloaded below.
The completed application and supporting documents must be received at least 4 weeks prior to your climbing date.
You will receive notification of your Academic Fee Waiver request's approval or denial, generally within 2 weeks of receipt of the application packet.

School groups that do not qualify for the fee waiver are required to pay the full price of the lighthouse tickets at least 2 weeks prior to the climb date or the reservation will be forfeited.
Required Documents
1) Fee Waiver Application (pdf, 324 KB)
2) Proof of Eligibility -- Current official recognition as an Educational Institution by a Federal, State, or local government entity, or other documentation attesting to educational status, such as accreditation letter or an educational tax exempt letter.
3) Declaration of Intent -- To satisfy the requirements of Relevance and Academic Purpose, school groups receiving a fee waiver must complete the Pre-Site Visit, On Site Visit, and Post-Site Visit activities in the Lighthouse Curriculum Materials.
Groups applying for a fee waiver must submit a declaration of intent to complete these materials. This must be printed on the educational institution's letterhead.
You may want to use this Sample Declaration of Intent (Word, 15 KB).
Application Submission:
Cape Lookout National Seashore
Attn: Academic Fee Waiver
131 Charles Street
Harkers Island, NC 28531
FAX: 252-728-2160
Did You Know?
The wild horses on Shackleford Banks drink fresh water from permanent ponds, rainwater pools, and holes they dug in the ground, but they do not drink salt water. Cape Lookout National Seashore More...