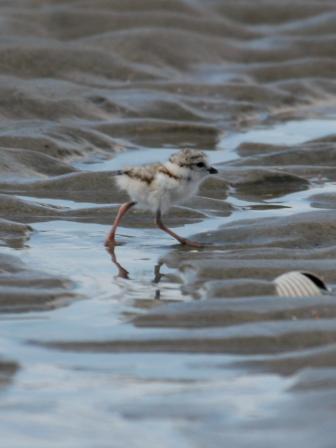 About two-thirds of the nesting piping plovers in North Carolina are found at Cape Lookout National Seashore. Unfortunately the number of nesting pairs declined from 39 in the park in 1994 to just thirteen pairs in 2004. The state of North Carolina has shown a 60% decline of nesting pairs.
In 2011, the number of nesting pairs in the park increased to 41. The greatest concentration of nesting piping plovers was found in the four-mile area around Ophelia Inlet.
At Cape Lookout, in the 2011 nesting season, thirty five of the fourty eight nests hatched and 37 chicks survived to fledge, mature enough to be able to fly. Although this was viewed as a successful season, the park did not meet the goal established by the U.S. Fish and Wildlife Service of 1.5 chicks fledged per nesting pair.
Cape Lookout National Seashore contains key wintering habitat for all populations of this species including the endangered Great Lakes piping plover. An average of forty five birds are found within the park outside the nesting season. The area near Ocracoke Inlet is also extremely important to migrating plovers.
More information on piping plover nesting success at Cape Lookout National Seashore can be found in the annual reports posted on the Wildlife Management webpage.