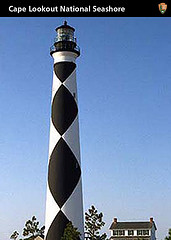 Cape Lookout Lighthouse
Darkening the Lights
To hinder Union ships navigating Cape Lookout Shoals, the Confederate Light House Bureau ordered the lens removed when North Carolina left the Union. After Union occupation, the lighthouse was relit in 1863. Unhappy with this Union action, a small band of Confederates attempted to blow up the lighthouse on April 3, 1864.