Be A Junior Ranger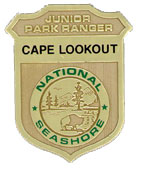 You can be a Junior Ranger at Cape Lookout National Seashore!
Ask for a free Junior Ranger booklet at the Harkers Island Visitor Center or the Light Station Visitor Center.
If you are 5 to 7 years old, complete at least four (4) activities. If you are 8 or older, complete at least eight (8) activities.
Then bring your booklet back to a Visitor Center. You will receive an official Cape Lookout Junior Ranger badge and certificate!
Already a Junior Ranger at Cape Lookout?
You can become a Junior Ranger Adventurer!
Junior Ranger Patch

NEW! During the summer, you can also earn a Junior Ranger patch! To earn your patch:
Complete the Junior Ranger booklet. (If you have already earned your Junior Ranger badge from Cape Lookout, bring it with you and skip this step.)

AND

Turn in your completed booklet and program check sheet at the Harkers Island Visitor Center or the Light Station Visitor Center to receive your patch.

Now you can visit Cape Lookout National Seashore from wherever you are! Prepare for your trip and discover the history and nature these islands have to offer.
How to become a Cape Lookout Web Ranger:
Download and print the Web Ranger booklet. (pdf, 409 kb)
Complete enough activities for your age group.
(grades 1 - 4, 4 activities; grades 5 - 8, 8 activities)
Some of the answers can be found in the park's online brochures and on the pages of the park's website.
Have an adult check your answers and then download and print out your Web Ranger certificate.
Congratulate yourself on becoming Cape Lookout's newest Web Ranger!