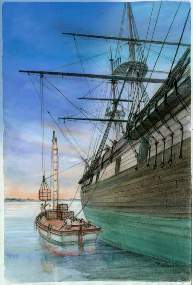 A Thriving Port Town
Large, heavily weighted sea-going ships bringing cargo through Ocracoke Inlet were unable to pass through the shallow interior waters. These ships would transfer their cargo to lighter draft boats which could navigate the shallow waters of the sound. This process is known as "lightering" and Portsmouth was a "lightering" village, providing warehouses and docks needed to move and store the goods which passed through the inlet.
Over 1,400 vessels and two-thirds of North Carolina's exports passed through Ocracoke Inlet in 1842.
But, barrier islands are constantly changing and the growing shoals (shallow areas) in Ocracoke Inlet made passage more difficult. Around the same time, an inlet was opened near Hatteras by an 1846 hurricane. This deeper inlet drew shipping routes and the trade through at Ocracoke Inlet declined.
In addition to the shifting sands, trade in general was shifting as the railroad allowed more and more goods to be transported by land instead of by sea. Portsmouth's days as a commercial center were drawing to a close.