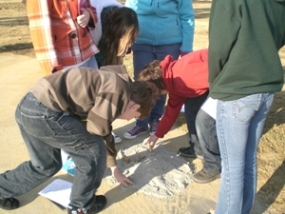 Curriculum Materials
Cape Lookout also offers several sets of curriculum materials designed to be used in conjunction with a class visit to the park or a park ranger visit to the classroom. These guides offer pre-visit, on-site, and post-visit activities and are available for download on the Curriculum Materials webpage.
Junior Ranger Adventures
The Junior Ranger Adventures program uses interactive activity booklets to introduce kids to various aspects of the natural and cultural history of the park.
There are five booklets in the series: Experience Cape Lookout, Saltwater Explorer, Island Investigator, Rescue Ranger, and Village Detective. The first booklet serves as a general introduction and is designed for kids in 1st through 8th grade. Booklets two through five are designed for grades 5 to 8 and require the use of activity kits, backpacks for small groups or totes for larger groups. More information on these booklets can be found on the Junior Ranger Adventures webpage.

For more information on the Junior Ranger Adventures program or to reserve a tote, call (252-728-2250) or e-mail us.
Traveling Trunks
While these materials are designed for use in a classroom, some activities are suitable for use at the Harkers Island Visitor Center. More information on this program can be found on the Traveling Trunk webpage. To reserve a trunk, call (252-728-2250) or e-mail us.
Scheduled Ranger Programs
Rangers and volunteers give programs in the lighthouse area, in Portsmouth Village, and in other parts of the park. It is not necessary to sign up for scheduled programs, but it may help us prepare if we know you are bringing a large group.
For information on requesting special programs, visit the Ranger Guided Field Trip webpage.